Term 2 is almost coming to a close (June 26th).  And what an usual time for us all.  First of all, I want to thank you all so much for being with us on this journey.  I am deeply grateful and learn't a bazillion things!
I have a lot to say – so I have video recorded this message in a video – so either keep reading or watch the vid (whatever your best info absorbing style is)
Term 3 is now ready to roll.   I have been a little slower with releasing this information because I wanted to make sure that all our services and products we offer you are amazing and align with the direction I want to take Nurtured Fitness AND also work in with the covid restrictions.
It would be fair to say that term 2 was 'survival mode' for many of us, including myself and we are bursting at the seams to create an amazing new normal. This means there are going to be some changes.  The team and I, truly want to transform your lives both internally & externally.  So please be rest assured that term 3 is going to look nothing like term 2.  It is going to be epic.  In fact, we are almost approaching our 7th Anniversary of Nurtured Fitness and I am personally incredibly excited to let you know what we have in store.
So, if you are after massive results, more accountability and support (plus bucket loads of fun), creating a 'healthy normal', then please keep reading.
**Please note, we are going to have less spaces available this term.  So, if you are in, you will need to reply quickly, because we do have a firm cap on numbers!** 
We are going to be giving you SOO much more this term.  More than we ever have and seriously can't wait to get stuck in.  We are going to be very results driven, so I hope you want a big slice of that!
What is the same? You are really spoilt to have the most amazing and talent trainers leading your classes.  They are our top-notch, pre/postnatal experts and friendly faces, busting to motivate you and welcome you back through the doors <3
What is coming up??
Timetable up date:
We have made a few changes to the timetable, and this is to work in with covid restrictions and ease of cleaning.  Firstly, BAM is now a 45min Dance Based class.  We have removed the floor work because the movement through the room and 'changing over' is not conducive with social distancing and of course time consuming cleaning.  But seriously… who is not going to love more dancing!!
So, we decided to add 2 Core Pilates classes on Wednesday morning (early times of 9 & 10am) so that everyone can get the detailed core attention it requires.  Please rest assure, BAM will still have standing core exercise components – because we are totally sneaky like that
We have removed Family Circuit to replace with Mum Zone on Tuesday's.  This choice is an equipment and interaction decision.  Children are still very welcome to attend all our sessions with you!
And Thursday you will see the introduction of Box Fit.  If you are after some added stress relief, then jump right in.  This is a non contact, cardio based boxing inspired workout (and initially equipment free).
At this point we have also removed the night class as this is the Studio's busiest times and we add more complications to the logistics.
Our plan is to take you to the next level Mum's and give you amazing classes that serve you beyond just pregnancy & early postnatal days.  EVERY class is suitable for all Mums as, every exercise is scalable and has variations for every stage you are at… and because our talented instructors are qualified to know the correct variations needed.
Once the social distancing restrictions come down, we will also have play pens set up in the studio for children to be supervised in the class without only being in your arms or close proximity.  But we are gearing to serve the wider scope of Mum's and not solely the pre/postnatal phase.  We are planning for new sessions/timeslots for fulltime working mums in the near future too.
OH, and did you see we are still keeping 2 live online classes each week!  This is to keep the variety & flexibility.  Will be perfect on those days when you can't come into the studio because Bub's is out of sorts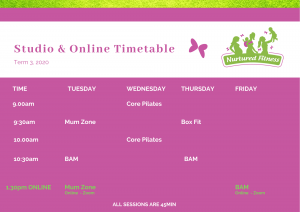 Member Events:
To further build our community and connect with one another, we are planning on hosting events so you have something social to look forward to (and probably some naughty food too).  This is so you can all get to know one another like we know you, which is one the greatest benefits of owning this biz.  They will be face to face where possible, but also options of doing online events like Trivia Nights.
Specialty Programs:
We will also be rolling out specialty programs to those members who would like more attention and individualised coaching to address specific needs for an even fast rate of progression that what is possible in a large-group setting.  Feel free to message me directly if this is something you already know you need.
**Challenges**
Each term we will be running an 8 week Challenge… And guess what? You get our Strong Mumma Challenge FREE in term 3.  All our new members will be inducted straight into the 8 week challenge also! Why? Because we are going to be results driven and problem solving.  Keeping you on track.  There will worksheets, audio recordings doused with inspo.
PLUS.. I will be running an 'Open Office Hours'.  So each Wednesday 12-1pm, you can jump in zoom and ask me (Philippa) anything.  Any health, fitness, motherhood issues you are stuck on, I will get you unstuck super fast and moving forward every single week
Massive Improvement to Service:
As our class and full capacity will be smaller, you will get more attention too.  We want to be a studio that prides itself on transformations both externally AND internally.
Kelli will be taking on a slightly new role with our customer service.  We will be implementing accountability on top of our normal service.  If you miss your sessions, you can expect for Kelli to hound you (just joking.. but lovingly chase you up).  We really do want you to be at all your booked sessions and treat them like important health appointments for yourself.
To get the transformations we want to give you, we will need all our clients to commit to coming to at least 2-3 sessions per week.  Yes, our classes are fun and great to get out of the house, but results don't steam roll with only coming once per week.  What do you want? Weight loss, increased strength, boost your mood, sleep better, balance your hormones, improve your core strength, stop leaking, feeling amazing & energetic?? We can help you make that all happen!
With all these continued investments and upgrades, they do required funds to become a reality.  And to continue to align with our mission to provide a truly nurturing and remarkable experience for our clients, we will be implementing a change in fee structure.  This has forced us to look at numbers, with a calculator in hand and it's simply not possible for us to grow and provide the level of service (without me volunteering) that you deserve.
There will no longer be a one class per week or unlimited class option.  What we will be offering is up to 3 sessions per week, plus full access to our recorded anytime workouts for $39pw, which will be effective from term 3, 2020.  This can be paid upfront or via a weekly direct debit.  We have a great variety of classes loaded on the site that you can access anytime or all day long if you please – woohoo
For those who are concerned about the price increase, I want you to know that we are simultaneously launching a Refer-a-friend program where you get 2 weeks FREE services when you refer a friend who signs up for a full term.  So, refer 5 friends and the term is FREE!  I'll have more info out for this shortly
So let's truly break down the Total Value of what we are offering:
Up to 3 Sessions per week valued at $60 pw
8 Week Challenge valued at $20 pw
Online anyone workouts valued at $20 pw
Office hours Support valued at $60pw
Accountability, support & mind n body transformation… Priceless!
 … yip all that for $39pw.  I still think it's a total bargain!
We have had a lot of change trust upon us all in the last couple of months, but as humans, I know we hate change.  If you have any questions or issues, please come straight to me as I would love to chat to you on the phone (not FB, text or insta) and avoid the gossip wheel.  This way, there will be 0% chance of miscommunication.  Just CLICK HERE to book a time with me and I'll call you.
Term 2 will wrap up on June 26th and then we will have our usual 2 week break.  If you join us BEFORE term 2 ends, you will get continued access to the online programs over the holidays.  Term 3 kicks off the week of July 13th
I am so excited to dive into our new normal, that is exciting, family centered and health-plus
x Philippa & The Nurtured Fitness Crew