Healthy Mums with Happy Bubs
BAM –  Aerobics Class
BAM (Bubs And Mums) is a Group Fitness Aerobics class for Pregnant, Postnatal women & even Parents with school aged children.  This energising class is perfect for women & mums-to-be as you are guided by our pre/postnatal experts.  This entire workout can be performed while keeping your baby close & happy OR you can participate 'child free'.  We commence the class with progressive & functional floor exercises that are Pilates/stretch inspired movements with integrated pelvic floor & postural exercises.  We combine low impact athletic movements with strength exercises to tone & rebuild bodies safely after pregnancy.  Our interval training to music will have your heart pumping and we wrap up the class with active cool down.  Higher intensity options will be available for Parents who are progressing their postnatal recovery or a 'child free' for the class.  If you love group fitness, THIS is the class for you.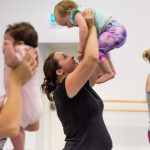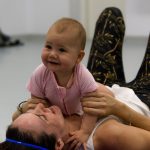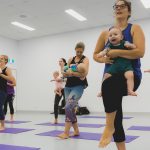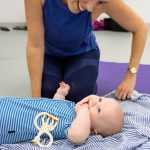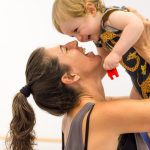 When can I commence classes?
You can start Nurtured Fitness classes once you have been given the 'all clear' from your GP/OB to start a Pre/Postnatal Fitness program. This can be from 6 weeks postpartum, however there is a 10-12week wait if you had complications with birth or a caesarean.
Is there an age limit for babies?
There is no age cap for children.  As long as your child is happy, comfortable and safe, you can participate as long as you want. Many mums start to try our Family Circuit from around 12months old, once their little ones are on the move. We have had many babies dance with their mums up to 2 years old.
Where?
Classes run on Monday-Thursday mornings at Turning Pointe Dance Studio. 240 Hartley St, Bungalow. Bookings are essential.
Our classes schedule is run similar to the school term.  Bookings are essential – CLICK HERE to register
CLICK HERE to view our full timetable
Term 4 is a 10 Week term starting from Oct 8th.  We offer 2 weeks of casual classes from Oct 8-18 before committing to the remainder of the term (8 weeks).
Our classes often sell out before the term has started, so please register to secure your preferred day.