It's time to ditch those comfortable maternity pants, rebuild your mummy tummy, spend quality time with your baby & unleash your inner Super Mum.
You can Rock this Postnatal body, get fitter & stronger, faster than you ever imagined with my interactive play based home workouts, which are designed to be completed WITH your child.
Thats right!…
Just because your baby is teething, clingy or even sleeping, doesn't mean you have to skip a workout.
Don't leave your baby with a stranger who is distracted by 20 other children around them and may leave your baby screaming.  No need for a babysitter, hoping you can attempt a quick 30min workout, only to realise you have no idea what exercise you should be doing anyway.
No need to wait until your kids are school age before you finally find some time to exercise.
Don't be waiting around for your partner to get home from work so they can mind the kids while you exercise & miss quality time with your hubby.
You don't have to look 4 months pregnant forever!
---
Hi I am Philippa Bowman,
Your Expert Pre/Postnatal Fitness Coach & Founder of Nurtured Fitness.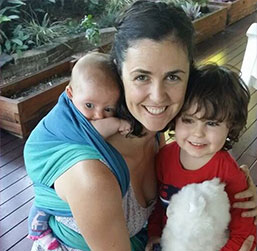 As a mother of two, I am going to show you the exact steps I took to rebuild & love my body, with my baby and toddler by my side.
Having a baby changed my life. I had this idea that one day, when I have my children, that fitness would be as simple as pop them in a stroller, go for a jog, leave them in gym creche, and viola, life's great! Well what happens when you have a really needy baby who needs to be held all the time? What happens when your child hates the pram? What happens when the gym child care staff leave your child screaming & distraught and don't come and get you? What happens when you go back to work and you have even less time for yourself? We all just want our children to be happy right!
I figured, THERE HAS TO BE A BETTER WAY!
So I created a better way & have been sharing my secrets with other families to help them find their fitness groove, together WITH their babies or toddlers.
---
Happy Mummy – Happy Baby – Healthy Family
My coaching includes playful & fun fitness programs that your little ones will love too.  I am here to help you create your 'New Normal' and show you exactly what I did.
I am so excited to be taking a limited number of families through my Online 6 WEEK Mama Fit Play Coaching Program, so that all families will be fit & strong,
TOGETHER
---
Here is what you'll get!
One-on-One Online Personalized Coaching

1 hour initial Skype Consultation.  We asses your schedule, eating behaviors, Abdominal Separation, Postnatal recovery & your child's development.
Fortnightly 30min Skype Coaching Calls & New Program/Workouts
Fortnightly 15 min Coaching Call (alternate week to your Coaching & Program Call ) to keep you accountable and adapt the best strategies for your family.

Become the ultimate multi-tasker!  Learn how to play, connect & workout with your baby or toddler at home with our action packed playful program.

You will get videos & written programs to complete each week.

Program variations for babies who aren't on the move yet or energetic toddlers.

Program Bonus!!!

PROGRAM to flatten your tummy & repair abdominal separation

Pelvic Floor GUIDE to gain the confidence to jump & run with your children
Body Positive Guided WORKSHEETS to learn to love your body

Mindful Eating RESOURCES to ditch calorie counting, guilt trips & change your relationship with food.
During this process you will get learn the tools to long term fun family fitness.  Be energetic, keep up with your toddler.  I totally get that what worked last week with your baby's schedule is not guaranteed to work the next week, because babies are babies.
---
You will learn the exact steps I took to rebuild my body after the birth of my children.
Your heart rate will be racing from the workouts and from the heart melting giggles you will share with your loved one.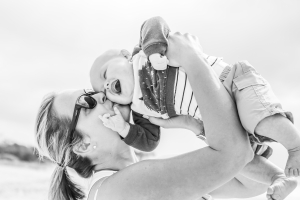 ---
This program is so much more than the usual Postnatal programs that have you put your baby/toddler in a stroller, throw some toys or an iPad at them and run for an hour. Or the beautiful Mums & Bubs yoga classes that were great until your baby learnt to roll & crawl and you just spend the whole time bringing them back to your mat and not actually working out.
This program is perfect for:
Busy Mums who don't have enough hours in the day
Multitaskers who want quality time with their kids & quality fitness for themselves
New Mums who want to be rockin' their Postnatal Body
Women who want to have fun with their children
Mums who want to love & respect what they see in the mirror

Mums who want to boost their energy, find their groove & make fitness a priority for their family.
You are already an Amazing Mum and we will transform you into an Amazingly Fit Mum.
Tracey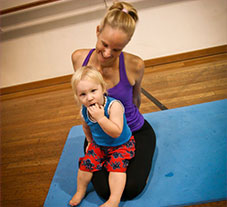 I am fitter now than I ever have been before, at 40 + years old and post 3 kids. Philippa not only provides fun and professional coaching, but she is one of those rare individuals that makes a big impact on your own lifestyle – her positivity is contagious; her ongoing encouragement to new mums participating in her programs on being kind to yourself and having fun at the same time is the encouragement all mums need; and her enthusiasm is unstoppable – I cannot recommend Nurtured Fitness enough!
Sarah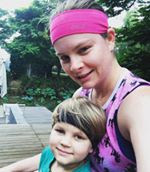 After being a part of Philippa's Mums n Tots program I was very excited to try out her Mama Fit Play program and it did not disappoint! Philippa spent the time to work through my busy schedule of family, study, work & travel to find realistic times to include physical activities into my day. She was happy to accommodate a diverse program for me from gym-based sessions whilst on holidays to interactive family workouts back at home.
Philippa gave me the tools and support to feel confident that my fitness goals are achievable, sometimes being more sure of my abilities than I am! She is also understanding that sometimes life gets in the way, and helps give you a gentle boost to get back on track with a priority on health and fitness as an important part of a healthy, happy life. I love Philippa's approach to fitness – she encourages "active" to be a normal part of your day. I can't wait to see where Philippa takes Nurtured Fitness next!
'Children aren't always good at listening to their parents, but they never fail to imitate them – Jennifer Blackford
During this process you will discover loads of great tips to implement in a busy Mum's life, fun fitness games to play & bond with your child.
There is so much value here! Still not sure?

Sign up to make your health a priority and make Mama Fit Play your New Normal