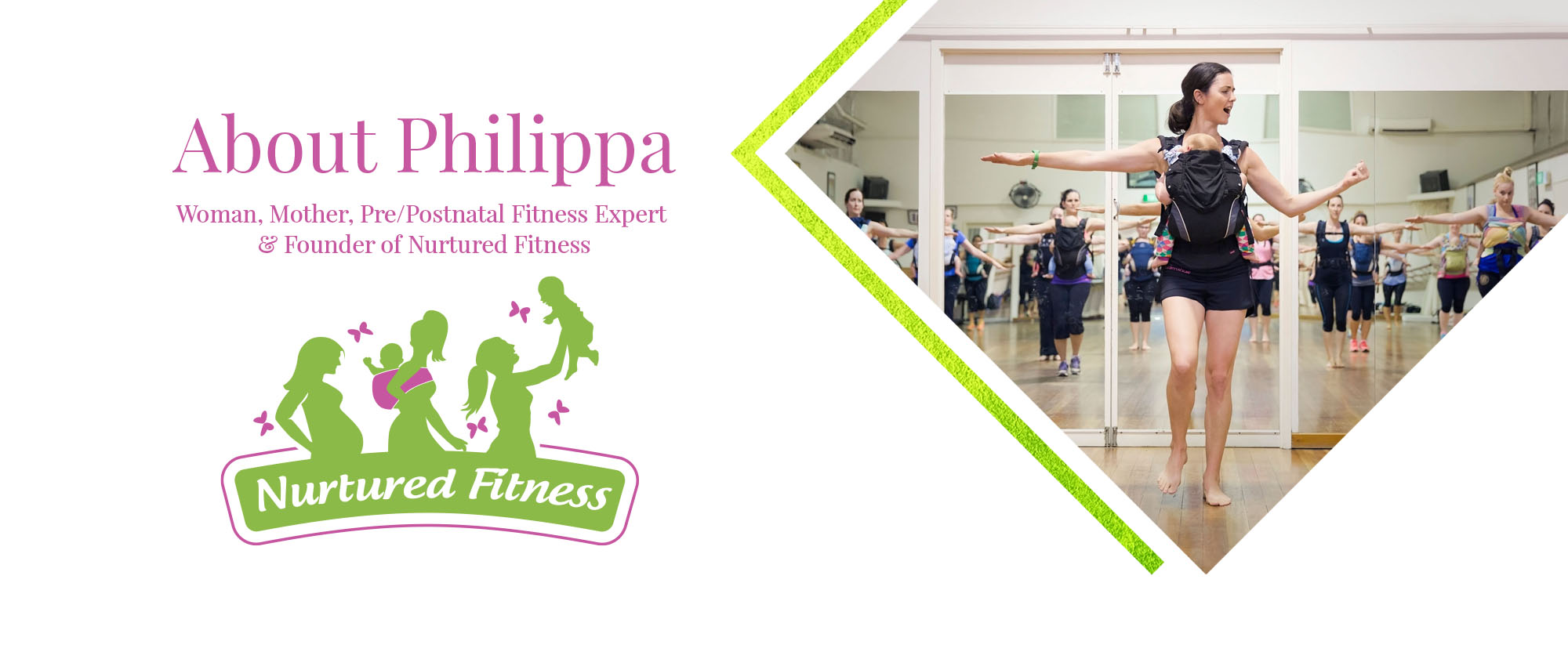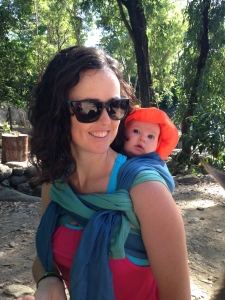 Thanks so much for stopping by. If you are a new Mum, love spending time with your baby, but probably haven't brushed your hair this week or done much for own health or fitness… take a deep breath, you're in the right place. Motherhood is a tough gig but I'm going to help you find your groove again.
I am Philippa, your Expert Pre/Postnatal Fitness Coach & founder of Nurtured Fitness. My whole life I have worked in Fitness & love working with women. But, it wasn't until I became a Mum myself, with a REALLY needy baby that consumed my universe, that I realised just how hard it was to prioritise my own health and fitness.
I know when you're busy multi tasking, probably back at work, running the home, off to swimming lessons, spending time with your kids and being an all round Super Mum, that fitness gets left by the way side.
Do you have time to count calories? Hell no! We are going to change your relationship with food and help you learn to love your body. Your amazing body that created a whole human (or a few humans for that matter!)
I'm serious about giving you Fun & Practical tools to help prioritise your family fitness, doing energising & playful workouts WITH your family. Don't worry, it is totally flexible and will work with your unpredictable baby schedule.
Click here to find out why my clients AND their children love Nurtured Fitness.
So whether your baby is still in your belly, cuddled up in a carrier or their little hand is wrapped around your finger, I will show you, your best workout, TOGETHER.
You can join us here in Cairns or keep an eye out for our online programs being released in 2016
We are all in the same boat, so let's get started! Contact me now to join our playful workouts WITH your baby.
Nurtured Fitness was Born from two very defining moments in my life. Nurtured Fitness is being built to be the One Stop Pre/Postnatal Fitness Destination for Mums. We are family friendly, encourage families to make fitness 'normal' & want you to love your body, regardless of where you are at in your journey.
Having a baby obviously changed my world. When my first child was born, I returned to the gym and took advantage of the child care facilities. It was all going great until the one day I returned to the crèche and found my son asleep in the rocker, literally twitching in his sleep, bright red blotchy faced, quivering with a Rusk and bottle shoved in both hands. He had clearly been beside himself and screaming for a very long time. I was totally shocked and heartbroken that no one came to tell me and left my poor baby in such a distraught state for so long. We all just want our children to be happy and this was clearly not a happy situation. I never took him back there again. I thought, "THERE HAS TO BE A BETTER WAY!" Babywearing fitness was the first step to creating Nurtured Fitness & I will show you all the secrets that I have learnt & created while having 2 kids by my side.
I think a lot of people assume they are going to enjoy being a Mum, but it certainly caught me off guard just how amazing being a Mum to MY beautiful children really is. And to be the best Mum, we have to take care of ourselves so we aren't running on empty. My Mum always said, 'You will never regret spending too much time with your children, especially in these first years of their life'. To that end, I'm passionate about bringing you the best fitness programs that allow you to spend quality time with your child, feel energised & organised, all while being kind to yourself. I'll give you practical & flexible tools that fit into a mums actual lifestyle, to help you find your 'new normal', ditch the mummy-guilt & feel like YOU.
The second moment was pre-motherhood. I used to compete as a Figure Fitness Body Builder. Damn I had an amazing body, but funnily enough, this was when I was the most miserable & self-conscious I had ever been in my life. I know there were a few steps wrong in my preparation, but I only felt happy the day I got on stage. I did an amazing job of OBSESSING with food and continually scrutinizing every inch of my body. This totally messed with my own body image, which was crazy since I had that bikini body everyone was seeking. It lead me to a bad place of negative self image that I had never experienced before and never want any woman to feel.
But I know how women grab their perceived 'flabby bits', avoid social situations that might highlight their body and have the internal negative self talk that is so destructive. I certainly never want my daughter to have this chatter in her head. So I have learned to love myself & it's an ongoing process. I consciously aim to provide Body Positive messages for my clients and their families, as sometimes the fitness industry doesn't have it quite right. Clients may come to me just wanting to 'lose the baby weight', but leave with pride in their postnatal Body, no matter what it looks like.
Philippa has always had a passion for fitness & sport. As a child she was the 'sporty one' in the family and spent all her spare time travelling before/after school to practice. So it was natural for her to further her studies in this field.
Her first week of University she was only 16 years old. She completed a Bachelor of Sport in Auckland, NZ and has worked her way through various roles within Sport & Fitness.
She as worked in High Schools, Corporate Health, with Cancer recovery clients, Personal training, Group Fitness, Aquarobics, Gym Management, but always had a passion for delivering high-energy classes for Women.
As a registered Fitness Professional with Fitness Australia she is specialised in Pre/Postnatal fitness. In 2013 she launched Kangatraining Classes in Cairns so mothers could exercise with their babies close and happy in a carrier. Her classes are so popular they sell out extremely quickly each term.
Philippa is passionate about giving back to the community and organised several family events that raise funds to support other families. Her events have raised over $5,000 for the Special Care Nursery at Cairns hospital and over $1,000 for PANDA for families with postnatal depression.
Philippa has had personal athletic success with Body Building. She competed mostly in Perth competitions but and was awarded NZ North Island Novice Figure Champion in 2009, with Best Performer award also.
Philippa's first priority in her life is her family, which includes two young children. She is a busy full time mum & full time entrepreneur. She counts herself extremely grateful that she is able to build her business while always having the kids by her side.
She prides herself on being an industry leader in Pre/Postnatal fitness. It is of high importance that her clients are safe and recover optimally through their fitness journey. Her programs have a particular emphasis on Pelvic Floor and Abdominal Separation healing to make your workouts completely safe.