We are currently in the midst of an amazing 8 week program with our Super Mums, but you can register here to be the first notified when the next round is open with our Early Bird Deal

Did you use to be really fit, but since becoming a mum,  you have no idea where and how to start exercising around the needs of your ever-changing baby? Do you often end up skipping workouts because your child is clingy, sick, teething or sleeping?
Are you back at work and just can not find the time to rebuild your fitness?
Do you worry about leaving your baby with a stranger at the gym crèche in case your baby is restless or cries?
Are you at a loss when trying to find the time to take care of your own body while caring for your family around-the-clock?

If your inner-voice and energy levels are down in the gutter, but you're ready to escape the cycle, then read on…
How would you like to show your children that health, movement, exercise and energy are all normal and even exciting parts of life?
Now, you can set a great example for your children, AND  get a little part of YOU back too!

Hi, I am Philippa Bowman,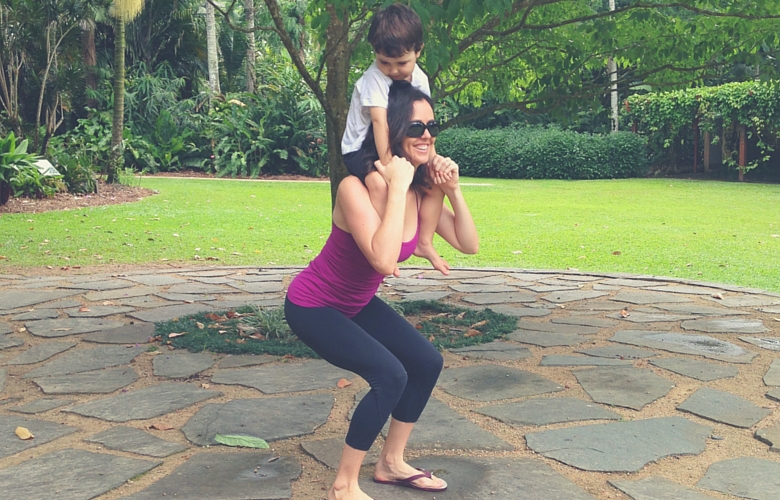 Your Postnatal Fitness Expert & Founder of Nurtured Fitness.
As a mother of two, I am going to show you the exact steps I took to rebuild & love my body, with my baby and toddler by my side.
Having a baby changed my life. I had this idea that one day, when I have my children, that fitness would be as simple as pop them in a stroller, go for a jog, leave them in gym creche, and viola, life's great! Well what happens when you have a really needy baby who needs to be held all the time? What happens when your child hates the pram? What happens when the gym child care staff leave your child screaming & distraught and don't come and get you? What happens when you go back to work and you have even less time for yourself?
I figured, THERE HAS TO BE A BETTER WAY!
So I created a better way, which takes the overwhelm out of knowing where to start. I am going to be sharing my family secrets with you so that you can find your groove and make fitness a normal part of your family lifestyle too.
I am so excited to launch the next round of my group online program with a limited number of mums who are ready to create playful memories WITH their children. You will get your hands on all the jucy content I have been sharing and creating for my one-on-one private clients who have paid hundreads of dollars for my help (but you don't have to pay that)

What's in the 8 Week Group Coaching Program?
Mama Fit Play
Exclusive Membership Site access

New workouts every week across 5 different training categories. Access all your weekly workouts, both video tutorials and written programs, through our membership site.

No special equipment needed
Next-level walking programs – pram or babywearing options
Tummy-time workouts
Interactive & Play based workouts
Core & Pelvic Floor programs suited to your level of postnatal rehab
Plus, home-based workouts you can do while your little ones nap
Weekly live group mentoring webinars hosted by Philippa, covering great topics every fit mum needs to know (all sessions are recorded for later viewing if your baby is up and distracting you!): Think planning, nutrition, lifestyle, postnatal rehab, self care & much more.  Monday nights 8pm QLD (all sessions are recorded if you miss them)
Fortnightly Q&A live chat with Philippa

Your chance to pick Philippa's brain and ask any questions that are getting you stuck each week. Thursday nights 8pm QLD (all sessions are recorded if you miss them)
Connect with your tribe

Access the Nurtured Fitness Community Private facebook group for all Mums registered in the program for dedicated support over the program
Guilt-free food guide

Get Philippa's recipe booklet with all her favorite recipes sourced from the best health & foodie professionals
There is so much value in this program!
Program Bonus
Exclusive VIDEO INTERVIEWS with additional health and wellness biz professionals specially identified by Philippa to enhance your journey
This is not your average postnatal fitness program. What we offer is a multi-layered system that addresses your complete health and wellbeing as a whole Mama.



Did I mention the program is GUILT-FREE?
Yes, guilt-free because you can tailor the program 100% to your family needs
Yes, guilt-free because you are spending quality time with your children and actually playing with them MORE!
Yes, guilt-free because there are no food rules to break – no restrictive diets or calorie counting
Yes, guilt-free because there are no hidden costs – no special equipment to buy and all workouts are home-based
Yes, guilt-free because you are doing enough! – All workouts are developed around a 10-minute circuit. Complete as many circuits as your time, and your baby, allows.
I totally get that what worked last week with your baby's schedule is not guaranteed to work next week… because babies are babies!  But this program designed to mould around what is happening in your world, right now.


Be prepared to throw the old rule book out the window. The way we exercised pre-motherhood is so different from what we do now. Before you could do whatever you wanted, whenever you wanted, for as long as you wanted. You could smash it out at bootcamp, but now you are exhausted. This new style is totally different… still effective … but you are going to love the playful adventure.
This program is perfect for:
Mums who are feeling overwhelmed with everything motherhood throws at them and don't know where to start their fitness journey
Women who may have lost their spark and are enduring low energy levels (lack of sleep) but want to get their adventurous spirit back
Busy mums who struggle to keep up with their kids
Working mums who want more quality time with their children and to make fitness a family affair
Stay-at-home mums who never get time to themselves
People who don't feel confident (or have the time) to go to the gym
Families who want to change their perspective on exercise and make movement a permanent feature of their lives
Mums who need to get organised and remove the guess work from their exercise planning
Women who love supporting other women. Connect with other like-minded mums
Every mum who wants to love and respect the woman they see in the mirror



Stop being so hard on yourself! Postnatal DEPLETION is real. Maybe you are back at work; your baby's not sleeping through the night.  Philippa will show you the way if you are lost in the haze of sleep deprivation, hold your hand and give you all the tools you need to get your groove back.
It is time to get out of the rut and move forward During this process you will discover and normalise tools and habits for life-long-family-fitness. Win at this and you'll create bucket-loads more energy for yourself and your family to enjoy the exciting path ahead.
We kick off TOGETHER February 13th


Questions:
When can I start this program?
The program is suitable from 6 weeks following a straightforward vaginal birth or 10 weeks after a caesarean section birth.  Please get the all-clear from your GP or OB prior to starting your postnatal fitness program.
I had my baby years ago, can I join in?
The program has been designed for mums with babies up to energetic toddlers (approx. 0-4 years), but can easily be adapted for those without little ones around.
Do I need any special exercise equipment?
No.  All the workouts are designed to be enjoyed from home with no exercise equipment required.  There are options to add some dumbells or resistance in your solo workouts if you have them available.  The walking programs will require a pram or baby carrier if you are taking your children with you.
What happens if I miss one of the coaching webinars?
All online coaching and webinars will be recorded and posted on the Vimeo membership site to watch at your leisure.
Do I have to follow a strict diet?
No.  The nutritional part of the  program is centred around slowly changing your eating behaviours for long term success. We use mindful strategies to learn to listen to our bodies and understand the nutrients we really need.  Plus you will get a booklet of all my favourite recipes from my selected Food Guru's
Is this program suitable if I am breastfeeding?
Yes absolutely – a good supportive nursing sports bra will certainly help.
Will this fix my abdominal separation or pelvic floor issues?
The exercises are designed to start the healing process. The speed of recovery will vary from person to person, but all exercises are safe and plenty of options are given within the program to suit your level. If you have specific pelvic floor or core issues, please consult your GP or women's health physio prior to starting.

We are currently in the midst of an amazing 8 week program with our Super Mums, but you can register here to be the first notified when the next round is open with our Early Bird Deal