Nurtured Fitness Online – Class Payment Process
Unlimited Live Classes & Access ALL Areas – Weekly Direct Debit
To register for Nurtured Fitness online classes, please click the link below.  Please note there is no minimum weekly committment, we just require 2 weeks notice to cancel.  Payments re processed Thursday for the week in advance.
IMPORTANT STEP for weekly direct debit: The very first question is payment 'Start Date' – this is your payment start date, NOT your first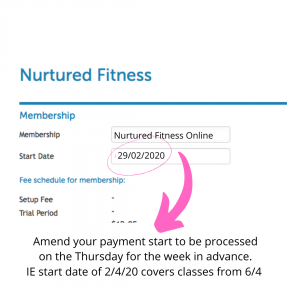 class start date.  This will automatically default to the current day you are processing this.  Our payments will come out on a Thursday for the week in advance.  Please adjust your payment start date to  the date specified in your email from Philippa.
The Unlimited pass gives you access to ALL Live Streamed Classes on our timetable PLUS bonus access to our membership site, which provides you anytime pre recorded workouts – Dance, Circuit, Yoga, Pilates & Core as well as some of the replays from our live sessions! This is our best bundle ever!
One class pw is One Live class pw only and does NOT include the online membership with anytime workouts.
The set up process is very straight forward – either pop in your bank account or credit card details and your done (double check your digits are correct).  You will also need a form of id handy to complete the set up (drivers licence or medicare card)
Here are what our online clients are saying already..
Shanna "I enjoy online as much as face to face! It's easy at home with crazy kids and you still get fantastic interactions! Great Job"
Alex "It's been awesome. I'm so glad I've had some sort of routine to follow and something to help pass the time whilst at home.  Thanks for keeping us accountable, laughing, sweating and moving"
Megan "I was so nervous about doing the online class – but it was so easy and fun!!"
Click here to view our program T&C's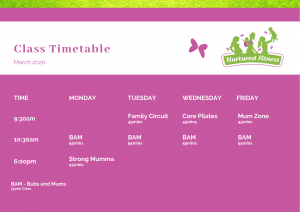 Please note the live timetable is delivered in Queensland Australia Time Zone