Have you always dreamily read about an amazing retreat in Bali thinking I would so love to do that with my friends one day?  But then you found out you were pregnant, had another baby and realised this dream had to go on the back burner for a good while?
Well we have found the ultimate solution for Mums' just like you – October 26-28
That's right!…
A family friendly Health & Fitness Retreat for Mums to enjoy WITH their babies
No daunting overseas travel alone with your bub
Beautiful tropical location, 4 star resort Palm Cove, Far North Queensland.  Only 25mins north of Cairns airport
Nurtured & guided by the region's leading Pre/Postnatal Fitness experts
Daily Yoga, Kangatraining & Workshops designed by Mums
You don't have to wait for 'ONE DAY'. Today is your day and you can have this dreamy experience this October 26-28
Philippa Bowman from Nurtured Fitness & Kangatraining Cairns, has teamed up with Jeany Schall from SOULMotion to bring you this amazing retreat.
We are so excited to be taking a limited number of families on a beautiful journey through our Mums & Bubs Retreat.

Here is what our package includes:  Packages cover 1 adult & 1 baby
Daily Yoga & Kangatraining classes with your baby
Daily workshops focused on Nutrition, Wellness, Postnatal Family Fitness
Take home resources and worksheets to keep your journey expanding
3 Days & 2 Nights accommodation in the gorgeous 4 star Grand Chancellor Resort
Buffet Breakfast daily
Facebook Group support leading up to and following up from the Retreat
Our retreat is specifically designed for Mums & Bubs to come together, relax & connect.  Any age baby is welcome, but we do encourage 4 months – 2 years old
Our package features a 2 bedroom unit with King Beds to be shared with another retreat family.  Units include separate rooms & bathroom, shared living area and kitchenette.
This fantastic set up means that in the evening/rest-time Mums can put bubs down and still mingle with another wonderful Mumma in the living area without disturbing sleeping babes.
We do have options available for families travelling with partners/helpers or more children (see FAQ below and contact us to personalise your package)
The resorts features a huge family swimming pool, restaurants, walking tracks in a lovely rainforest setting, and beautiful Palm Cove at your finger tips.
Take a peek at what you may experience each day…. (Sample schedule subject to change)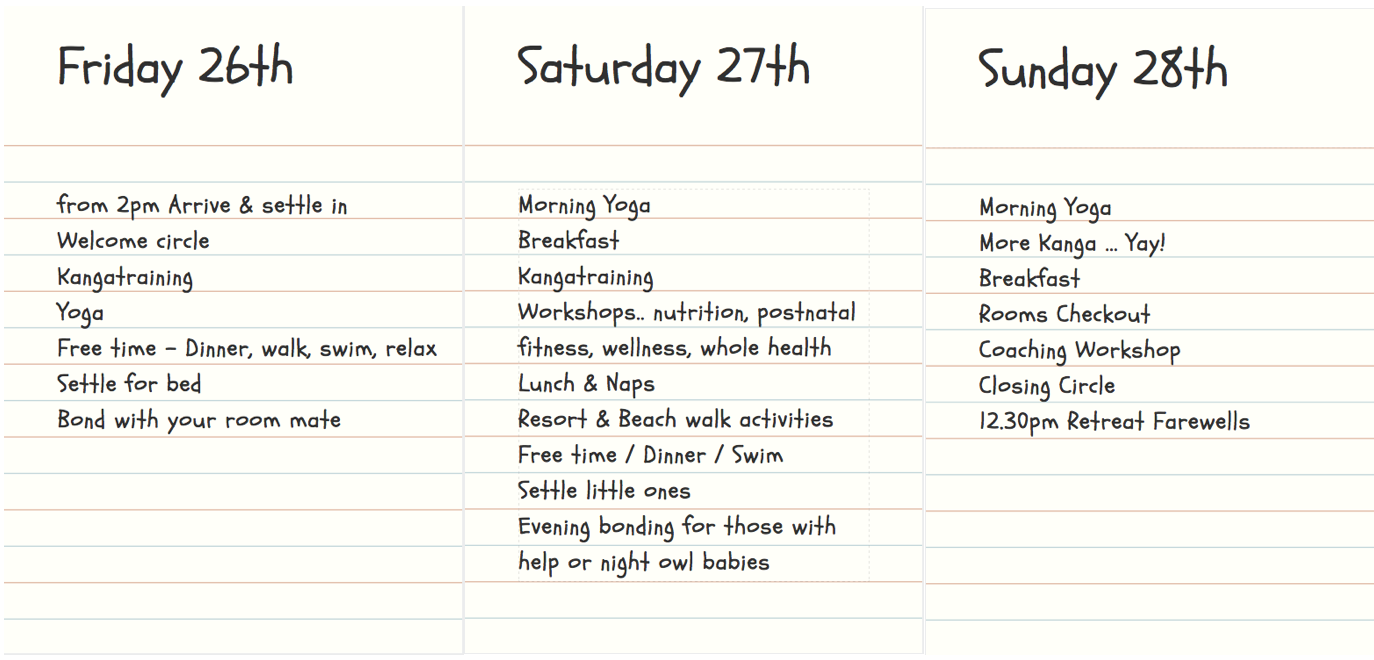 During this journey you will have complete access to Philippa & Jeany, plus our retreat Mentors to support you.
You will be RELAXED, INSPIRED, CHALLENGED, EMBRACED & NURTURED
This retreat is perfect for Mums who…
Need some intense 'me time' and ground themselves with empowering women
Exhausted Mums who need to reset and put their health back to the top of their priorities
Women who need some direction & guidance on their health journey
 Any new Mum who has always dreamed of an amazing retreat experience that their children can attend.
You are already an Amazing Mum and we will send you home energised!
This retreat is the ultimate 'Me Time', Guilt Free & Dream come true!
It really is ok to put yourself first.  Let us fill you up, so you can go home full of full of inspiration & knowledge to continue your amazing motherhood journey
PAYMENT PLANS AVAILABLE
Sounds Perfect Right! Still have a couple questions?
But I don't know what my baby will be like in a couple of months time?? WATCH HERE
FAQ's
Can I bring my Partner, Grandparent, other children?
Yes! The retreat is tailored and priced for 1 Adult & baby, but we understand you may have a support person travelling with you too.
The approximate costs for additional family guests are listed below, but we recommended larger families (for example Mum, Dad, Toddler & Baby) stay in the standard studio room, which includes 2 x Double beds.  These rooms do not have a kitchenette.  We cannot guarantee 2 bedroom suites for all 'large' families as solo Mums will take preference to share with another Mum.
Please apply with your full situation and we will let you know the best available package.
Are there payment plans available?
Yes! We can set you up on a direct debit payment plan
Early bird rate 3 monthly payments x of $269 (plus any add on costs).  Payments after June 30 are 3 x $302
Please contact us so we can customise your payment plan
Direct debits can be set up using a bank or credit card.  Credit card fee's apply – 1.5% Visa/Mastercard ONLY
Are there any other additional costs?
Travel & transfers costs are not included and must be arranged by the guest
Travel insurance is not included and highly recommended
Breakfast is included, but all other meals and beverages are not included.  We suggest travelling families arrange food delivery such as Coles online to deliver to the resort or order meals from resort resturants.
Additional Costs
If you need any of the following 'extras', these are the additional charges
$25 Port-a-cot hire applies for the two nights
$150 per additional Adult ie Partner/Grandparent travelling with you (includes breakfast) for the two nights
$50 per additional child under 4yo for the two nights
$40 for additional roll out bed for the two nights
The above are approximate additional prices, subject to availability, room configurations & your unique family.  Please apply with your full situation and we will let you know the best available package.
Credit card payment fee of 1.5% applies – Mastercard/Visa ONLY.  Bank transfer upfront & direct debit from nominated account is available.
Is there an age cap on babies?
This retreat is designed for Mums with babies of any age, however we do encourage babies 4 months – 2 years old.
Older children are welcome, but it will be up to the parent's discretion as to how their child will cope with the activities.  You can always bring some food & entertainment to help amuse them during activities.
Australian Fitness standards advise a minimum 6 weeks wait after vaginal birth & 12 weeks following caesarean section birth before recommencing a postnatal fitness program.
We will also require that Mum has had the 'all clear' from her health care provider (GP/OB/MW) to commence exercise after birth.  Just a verbal discussion with your health care provider is required.  Only in some health circumstance we may request a written consent.
What is the cancellation policy?
CLICK HERE to read the full cancellation terms & conditions
Do I have to be fit?
We will be exercising every day on the retreat so a being active during pregnancy or a basic introductory postnatal fitness program before the retreat is highly recommended.  You do not have to be a gym bunny as we will offer different levels during the exercise.  You just need to have started moving your body at some level prior to attending.  No Yoga or Kanga experience is required.. but we know you will love them both.
No coordination is required for the classes.  Just come and have a great time.
Breastfeeding Mums?
Breastfeeding is encouraged in both public & private areas of the resort at your leisure.  If you are bottle feeding, please ensure you bring appropriate amounts of formula & bottles.
What if I fall pregnant before the retreat?
Well we do love babies!
This program is tailored for postnatal Mums, however it will still be possible to participate in the retreat.  The main modification will be Kangatraining.  You will not be able to wear your child in a carrier for the Kangatraining classes whilst pregnant.  We will give you modifications to follow the Pre-Kanga program.  It will be essential to get clearance from your health care provider GP/OB/MW prior to attending the retreat.  Verbal is fine, but in some health circumstance we may request a written consent.
What is Kangatraining?
Kangatraining is the ultimate babywearing dance based workout.  We focus on rebuilding your entire body after pregnancy, through a fun & energetic class.  Babies are worn in carriers and often gently rocked to sleep with our smooth moves.
We love all things about babywearing, but not all carriers are suitable for the exercises we do in class.  We can assess your carrier for suitability, but we will also have spare Manduca's available to use during the retreat.
PLEASE CONTACT US TO CUSTOMISE YOUR PAYMENT PLAN