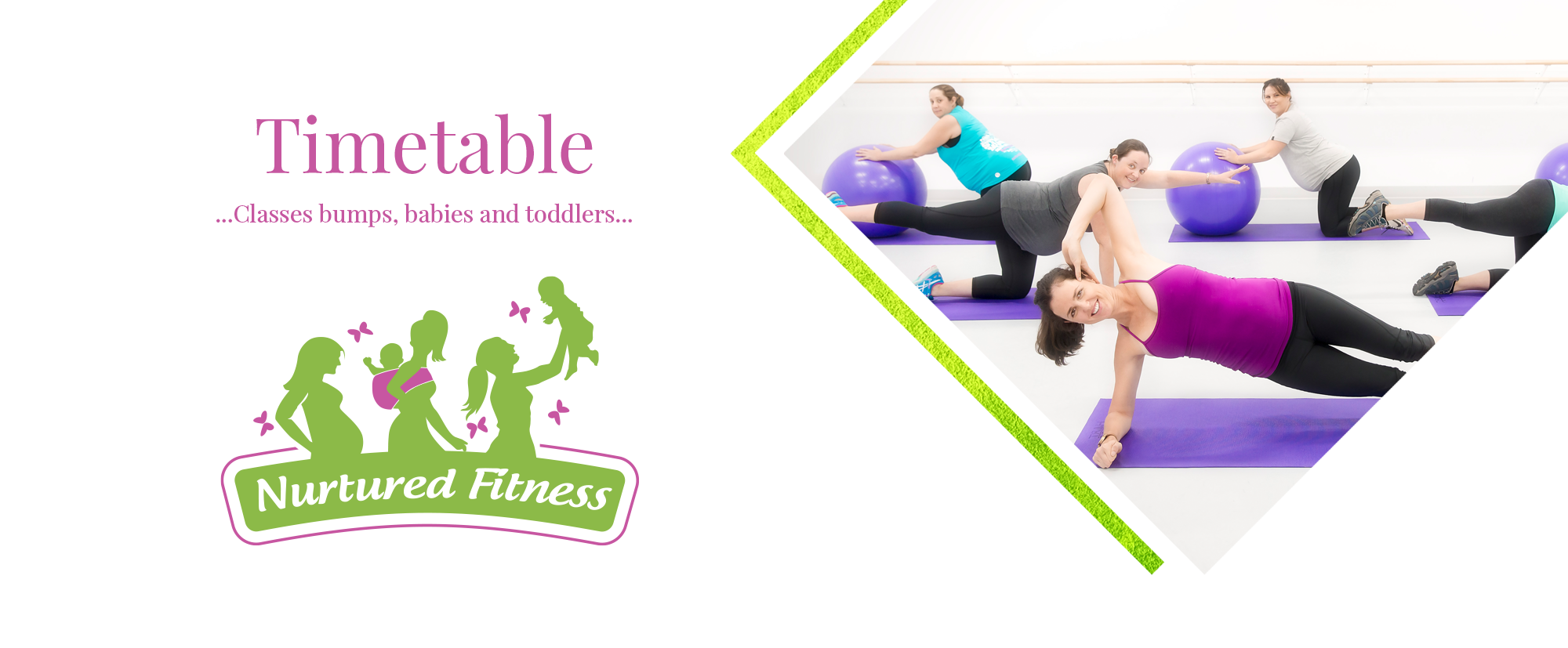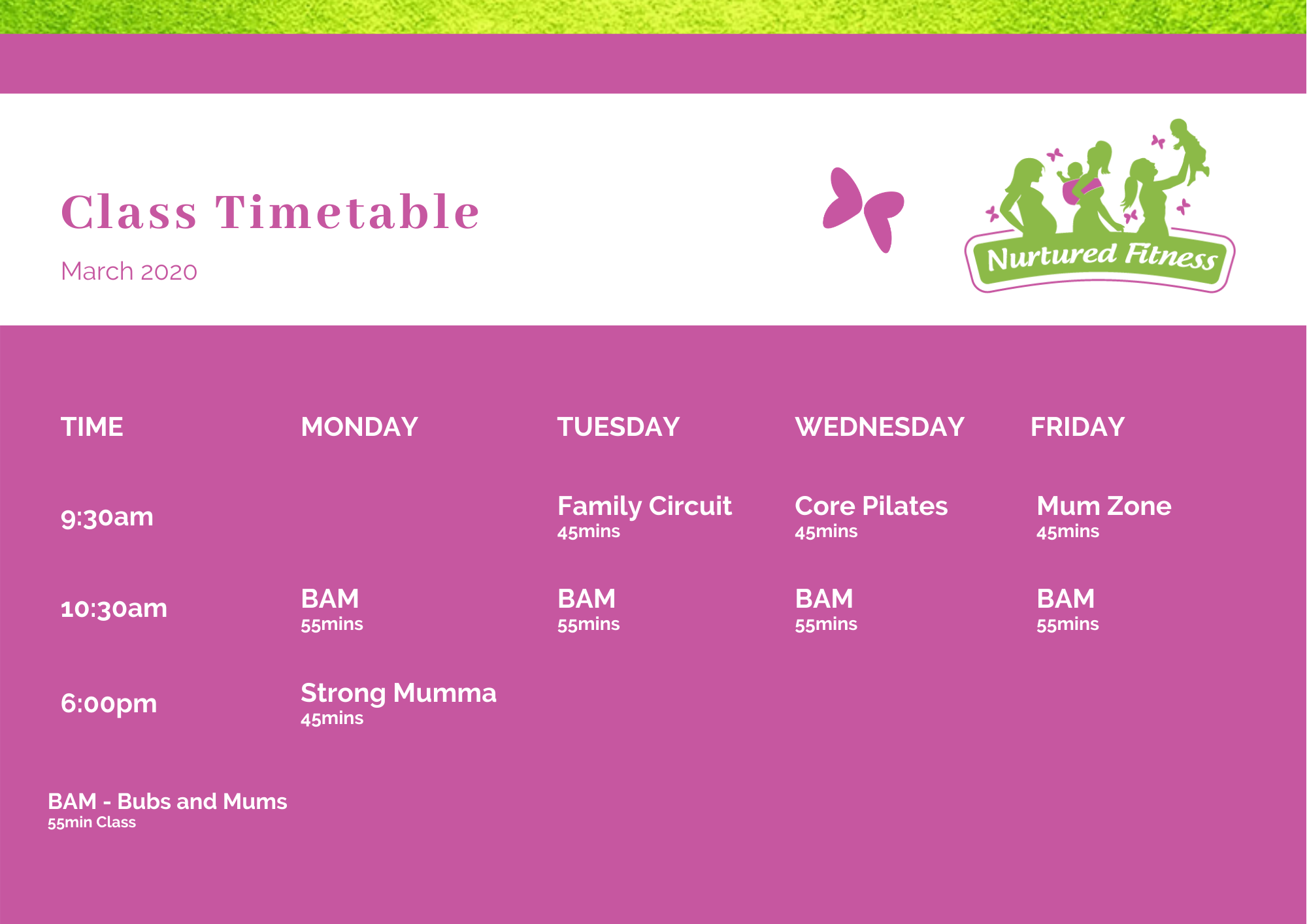 CLASS DESCRIPTIONS – All classes are run similar to school term timetable. 
All morning classes are family friendly and encouraged to bring bub/children, while night classes are 'mums' only
BAM (Aerobics & Conditioning) – 60min (suitable for Pregnancy, Postnatal women with their bub/child & Parents with school aged children)
BAM is a Group Fitness Aerobics class for Pregnant, Postnatal women & even Parents with school aged children.  This energising class is perfect for women & mums-to-be as you are guided by our pre/postnatal experts.  This entire workout can be performed while keeping your baby close & happy OR you can participate 'child free'.  We commence the class with progressive & functional floor work that are Pilates/Stretch inspired movements with integrated pelvic floor & postural exercises.  We combine low impact athletic movements with strength exercises to tone & rebuild bodies safely after pregnancy.  Our interval training to music will have your heart pumping and we wrap up the class with active cool down.  Higher intensity options will be available for Parents who are progressing their postnatal recovery or a 'child free' for the class.  If you love group fitness, THIS is the class for you.
Family Circuit – 45min (Mum & Bub/Child classes – suitable for Pregnancy & postnatal women)
Play hard & train hard in our interactive circuit based class.  This class is suitable with modifications during pregnancy, postnatal and for mums with older toddlers (children approx. 6weeks- 4years old).  We use a mixture of themes, games and circuit based training to get a family workout together.  We will focus on our 3 C's 'Copy, Carry or Chase' to include your little ones.  This 45min class is run by a pre/postnatal fitness expert.
To see what a typical class looks like, please CLICK HERE
Mum Zone – 45min (suitable for Pregnancy & postnatal women)
This is a modified HIIT (Higher Intensity Interval Training) class for Pre & Postnatal Mums.  Think of Bootcamp style training to get your fitness to the next level!  Special functional exercises are chosen by our expert Pre/Postnatal trainers to include specific strength moves for motherhood.  Mothers are welcome to bring their children along to this class, however it wont be an 'interactive class' with the children like our Family Circuit class (above).  The children will still be supervised by their mum in the designated play area in the same class space.   
CORE PILATES YOGA – 45min (Mum & Bub/Child classes – suitable for Pregnancy & Postnatal women) 
Pilates has a central focus on strengthening your core, pelvic floor, tone your entire body and stretch out all those achy body parts from motherhood/pregnancy.  This class is lead by an exceptional Women's Health Physiotherapist who will give you a varied Pilates, Yoga, Core & Pelvic floor fusion class.  The exercises will strength your changing bodies, prepare you for functional 'mum' movements, clear & calm the mind, balance your posture, increase your overall fitness performance and increase your mind/body awareness.  Join us with other Mums & children to regain your strength and realign your posture. Learn more HERE
Strong Mumma (Pregnancy & Postnatal) – 55min
Combining our two favourite activities of dance and strength building, this class is a favourite for all Mums & Mums-to-be.  Groove your way through, while adding resistance (body weight and light weights) for functional strength to prepare you for pregnancy, birth, recovery & motherhood.  This is the only class on our timetable that is 'child-free' and gives us an opportunity to challenge you more when appropriate.  We start the class warming up on fitballs, progress through simple dance based cardiovascular endurance training, guide you through a group circuit using body weight & light weight muscle conditioning exercises & finish off with an active cool down.